ٹوکرا پُوش جمہورو، یہ ہوتی ہے جمہوریت ، جنہوں نے ایک چھوٹے سے جھوٹ پر ورلڈ نمبر ون پلیئر کو ملک سے ہی نکال دیا۔ اور ایک ہم حرام خوروں کا ملک ہے، جہاں جج جیل سے مجرموں کو باہر بھگاتے ہیں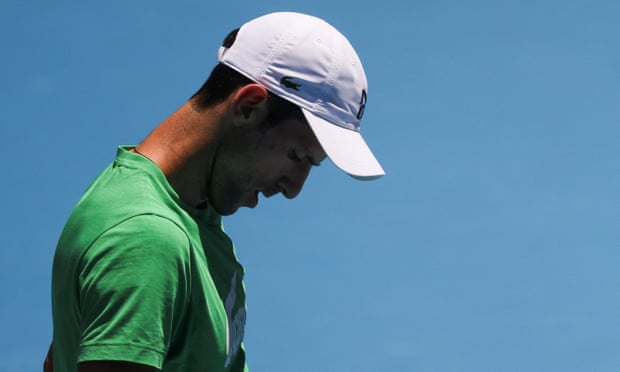 PM says decision is to 'protect sacrifices of Australians' Prime minister Scott Morrison has spoken out on the decision, backing his immigration minister and saying it was done to "protect" the sacrifices Australians have made during the pandemic:
I note the Minister for Immigration's decision in relation to Mr Novak Djokovic's visa.
I understand that following careful consideration, action has been taken by the Minister to cancel Mr Djokovic's visa held on health and good order grounds, on the basis that it was in the public interest to do so.
This pandemic has been incredibly difficult for every Australian but we have stuck together and saved lives and livelihoods.
Together we have achieved one of the lowest death rates, strongest economies and highest vaccination rates, in the world.
Australians have made many sacrifices during this pandemic, and they rightly expect the result of those sacrifices to be protected.
This is what the Minister is doing in taking this action today.
Our strong border protection policies have kept Australians safe, prior to COVID and now during the pandemic.
Due to the expected ongoing legal proceedings, I will be not be providing any further comment.
The former deputy secretary of the Department of Immigration, Abul Rizvi, was on the ABC earlier, outlining what he thinks will happen next, including the return of Djokovic to detention:
What that means now is that Novak Djokovic must be taken into detention. I assume he'll go back to the same detention hotel that he was at previously. I assume his lawyers will now seek judicial review of that decision. And, the court will need to consider whatever application Mr Djokovic's lawyers make.
I assume the applications will be for Novak Djokovic to be released in some way, probably directing the minister to release Mr Djokovic on a bridging visa to allow him to play in the Australian Open. The judge would consider that and make a decision
Australia's immigration minister, Alex Hawke, has re-cancelled the visa of reigning Australian Open tennis champion

amp.theguardian.com